So for my homework I was supposed to read the following and write a response.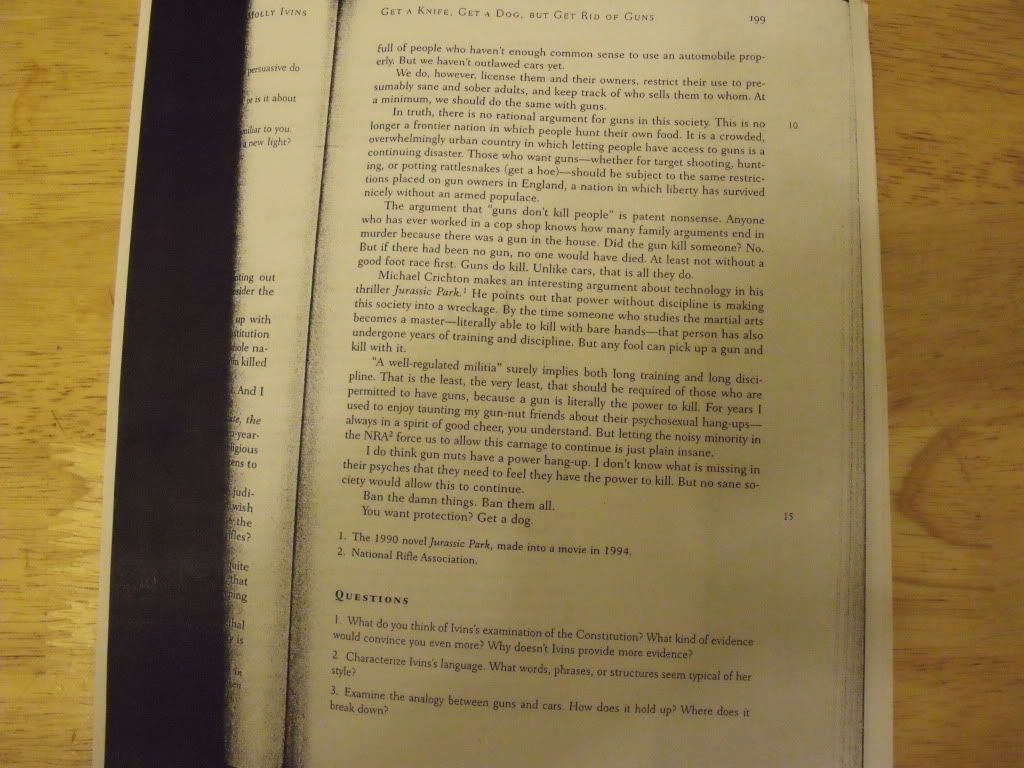 I initially pretty much took a dump on the essay above, but after I read a few positive opinions on it, remembered that I go to one of the most liberal universities in the world and should probably turn it down a notch. I'll post what I wrote and then you can share your thoughts on the above since it's oddly relevant with all of the shootings recently.
Ignoring the side of the gun debate Molly Ivins takes in her "Get a Knife, Get a Dog, but Get Rid of Guns" article, I felt that - while entertaining - her arguments were quite weak. It seemed clear that the main purpose of the article was to entertain those who already shared her opinion. She begins her article with an attempt at light-hearted humor by advocating the health benefits of using knives instead of guns. While not a problem by itself, this introduction to her position caused me to question whether or not the rest of her statements were going to be made up of any serious arguments or just more attempts at amusing the reader. As someone reading the essay solely to analyze the arguments, the tone of the piece prevented the author from developing much authority.

At one point in her narrative, Molly mentions that the common pro-gun phrase "guns don't kill people" is "patent nonsense." She then directly contradicts her own argument in the next sentence with a rhetorical question. Although her intent in the example was clear, the issue with it – and the rest of the paper – is that Molly doesn't even try to understand or break down opposing arguments with any depth. If the intent of the author is to entertain readers of similar views as opposed to convincing the masses, the article is probably a success depending on where the article is published and the audience. However, the shallow counter-arguments to straw man positions and ad hominem attacks ("gun nuts" and "psychosexual hang-ups") don't make a very compelling real-world argument.