0






My 17th of May + Solskjær
My 17th of May
16th of May
This year we weren't supposed to have a big party for family and friends, but relax instead. Ofcourse, that did not happen. The 16th of May was a very stressfull day. Everything had to be ready for the 17th, and the new entrance had to be finished, so we could move some stuff in there. The food needed to be ready for the next day aswell. But it went allright, and eventually we got there. My brother could, as usual not help. Both because of laziness and because he "had" to go to the big russ part that symbolizes the end of the russ time. I don't blame him for going to that party, just the fact that he is so lazy and can never help around the house. He got the easiest job and not only did he do the job badly, but he got his friend to help him do it.
17th of May
Now, on the 17th of May we had to get up really early. I'm not very good at that, and after my parents had yelled at me a couple of times to get up, I finaly did when there wasn't much time left until we had to go. So i quickly got ready, and we drove to the place where we usualy stand and watch the kid's parade go by. The parade is not for kids to watch, but for kids to participate in. All the schools and day care centers participate and they can win this prize for being the best part of the parade. Now, this is where Ole Gunnar Solskjær gets in to the picture. He got three kids in the parade, and he was standing right on the opposite side of the street for me. I'm always kinda shocked when I see him, as he is(or atleast was) one of Norway's most known man(footballer, soccer player).
After the parade we went to my grandmother's house and eat some food and cakes, just for the family, pluss my brother's friend who's staying with us. He had been partying all night and hadn't slept, and he was still drunk. So he acted rather strange.
After that we went to watch the russ train, which my brother and his friend was participating in, and playing the guitar. It was rather funny, and the "new" red russ got so much hate, because they have been blue for so many years, and then they suddenly decided to become red russ instead, so the "real" red russ was hating on them.
After that, we went home and prepared for the party, and then the guests started arriving. Lots of people came, and it was funnier than I can remember it used to be.
Ole Gunnar Solskjær
I was not quite finished with
Solskjær
just yet. In the evening yesterday, a privatejet landed on the airport in my town. Turned out to be someone from the management of Aston Villa, trying to make Solskjær come with them to Birmingham so they could discuss a possible position as coach for Aston Villa(premier league soccerteam). Solskjær used to be a quite good footballer(playing for Manchester United), until he injured his foot or something, and then he started coaching for the reserve team of Manchester United. He then suddenly moved back to his home town in Norway, right next to where I live. And then he started coaching a footballteam in the highest league in Norway, and in his first year made the team win their first cup ever.
Now, as I said I live right next to him. You could almost see his house from the picture i posted earlier of the view from my house. Here are some new pictures: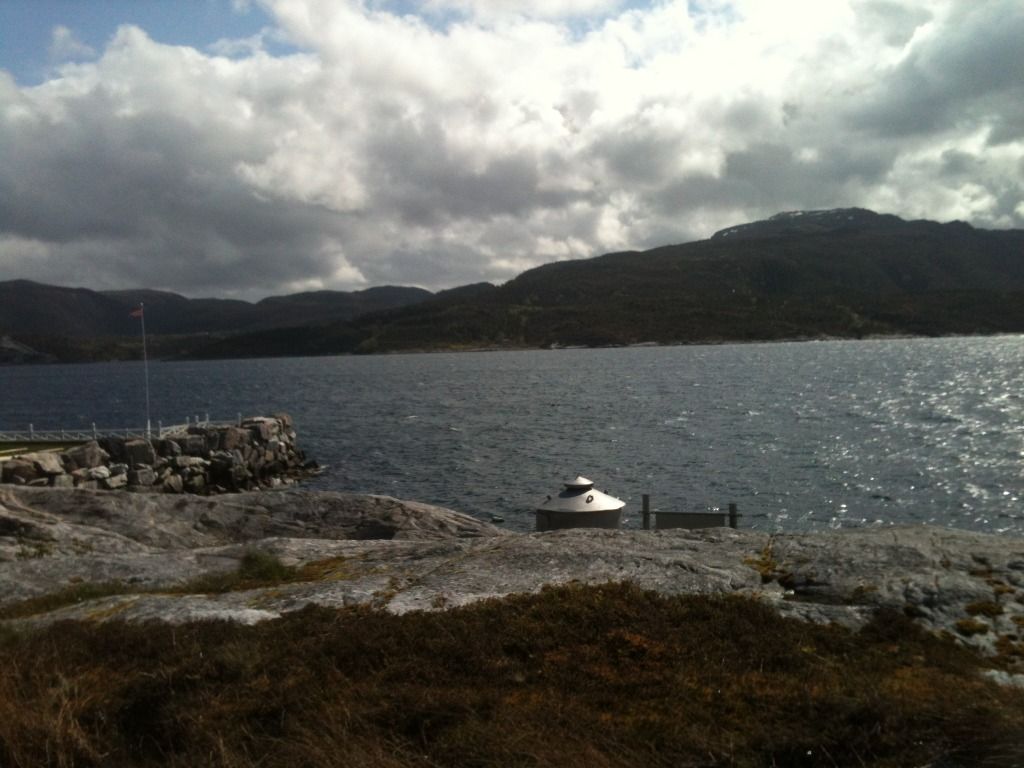 The pictures are of his house. He paid 11m NOK(1,838,157.89 USD) for it. The pool was removed by the previous owners, but I can see that Solskjær made a new pool in the same place. You better like this, because I ran out without my jacket and took these pictures, and it was freezing.
If you haven't yet seen the
updated blog entry
of my last one, please do. The edited version is a lot funnier. This entry isn't very funny either, it's more bragging and information about my life really. But I tihnk it's a pretty standard 17th of May. Lastly, here's a question for anyone in the US: Did any of you notice any celebration of the 17th of May in the US? I know some people celebrate it there.
Also, Traag, you must have noticed that writing an entry can be quite annoying. If you backspace to quickly sometimes, the completly wrong thing gets removed, and it's really annoying, especially when you don't notice at first and keep writing...