September 26th - Bundles and Releases
Submitted September 26, 2012 by

Jake

2,436 Hits

The biggest gaming news of the 26th of September.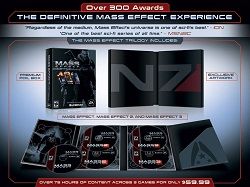 Today's Releases
Marvel vs Capcom Origins (Xbox 360)
Hearts of Iron III: Their Finest Hour (PC)
Castle Crashers (PC)
Hell Yeah! Wrath of the Dead Rabbit (Xbox 360)
Since that is now out of the way, let's look at some news.
News from the 26th
Cable companies, such as Warner, Comcast, and Verizon, are considering offering video game streaming services similar to OnLive. If this is true, this service could be offered as early as next year.
The Mass Effect Trilogy is going to be bundled into one game and released on November 6
th
for $59.99, and you know what that means. Mass Effect 1 is coming to Ps3! I am really excited for this, although I already have Mass Effect 2.
Also, another trilogy is coming along in November, but only for Ps3. The Assassin's Creed Ezio trilogy is getting launched on November 13
th
for $39.99.
I feel that these three announcements are huge. What is your opinion on each one. Should cable companies get involved in video games? Should the Ezio Trilogy come to Xbox 360 and PC? Leave your thoughts in the comments below!
Article: September 26th - Bundles and Releases