Nintendo Ads, Romney, and Half Life 2
Submitted October 03, 2012 by

Jake

3,409 Hits

All of the news from October 3rd, 2012. Nintendo, Kingdom Hearts HD 2, and more!
A group of developers in the gaming industry are using Kickstarter to fund their new project, simply called Old School Role-Playing Game. The website delivering this news had many positive comments, and I have hope in this title. I pray it comes to Ps3.
Surely you have heard of the Kingdom Hearts HD Collection? If you have, you've likely noticed two important titles missing: Kingdom Hearts II and Birth By Sleep. It turns out that Square Enix is strongly considering releasing a second HD collection for the series that involves those two games, and possibly even Dream Drop Distance.
Nintendo has put together a new ad campaign called "I'm Not a Gamer." The reception to these ads has been largely negative, with people saying it insults people who are gamers. I don't agree with that, but it brings a bit of sadness to me to see the big companies appealing to casuals more than core:

http://www.youtube.com/watch?v=i6XeECPKnJM&feature=player_embedded
The website Cracked put together a bunch of pictures depicting what Mitt Romney must do to win the election. By far, this was the most popular choice: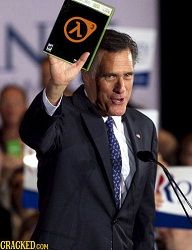 So, what are your thoughts on Old School Role-Playing Game? Kingdom Hearts HD Collection 2? Do you think the hate for Nintendo's ads are justified, or over the top? Most importantly, would you vote for Romney if he announced Half Life 3? Leave your responses in the comments below!
Article: Nintendo Ads, Romney, and Half Life 2