Ni No Kuni, Hurricane Sandy vs. Activision
Submitted October 31, 2012 by

Jake

1,076 Hits

Ni No Kuni 2 game-play, developments of cash-cow Modern Warfare 4, and Super-storm Sandy's karmic destruction of all Activision (gasp, CoD!1) servers.
Happy Halloween, everyone! I had to rush to put this together in time for the holiday's festivities, but here we go!
Today's Releases
Painkiller: Hell & Damnation (PC)
Natural Selection 2 (PC)
Borderlands: Legends
Today, Borderlands: Legends for iOS was released. It is a top down shooter where you play as the original four vault hunters: Mordecai, Roland, Lilith, and Brick. It costs $4.99 on iPhone and iPod touch, and $6.99 on iPad.
Super-storm Sandy
Hurricane Sandy has hit Activision servers stationed in New York, affecting the following games...
Call of Duty: World at War (Ps3)
Call of Duty: Modern Warfare 2 (Ps3)
Call of Duty: Black Ops (Ps3, PC, Wii)
All Guitar Hero servers
Even CoD?
*Gasp!*
Infinity Ward and Modern Warfare 4
Speaking of Activision, a voice actor has leaked that the hollow shell that is Infinity Ward is now developing Modern Warfare 4. This comes as no surprise, of course. It appears that we will have to whether at least one more year of fan boys defending an outdated franchise. One more year in which I continue to lose faith in humanity. How sad.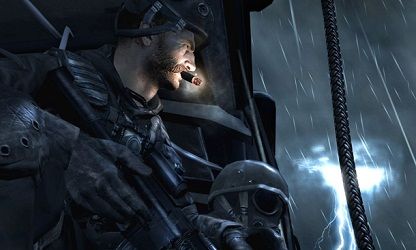 Ni No Kuni: Wrath of the White Witch
Let's end on a good note. I have found game-play footage of Ni No Kuni: Wrath of the White Witch. Don't know what that is? I'm not surprised, it's fallen under the radar. This footage shows the combat system. I highly recommend everyone to keep an eye on this game. It deserves your attention, and restores a bit of my faith in humanity.

http://www.youtube.com/watch?v=GaPLQWZA9OU
Well, that's it for now. Happy Halloween, everyone!
Article: Ni No Kuni, Hurricane Sandy vs. Activision