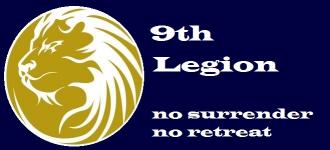 9th Legion
You cannot join this group
Description
We are:
- Loyal to Daggerfall covenant;
- PC and Mac ;
- Global ( EU and US);

We are moderate and oriented towards PVE, PVP and Crafting.
Our set of values : honour, dedication , loyalty and accountability.
Our most valuable asset are people.
To be efficient group we must follow our values and obey rules.
Basic guild rules are not negotiable and apply to every and each member:
- life before game
- if u have committed then u deliver and if u cant deliver ask for help
- promote equality between guild members
- any kind of discrimination is strictly forbidden
- no trash talk
- any disputes between guild members have to be solved in private
and/or with mediation of officer
Any breach of guild values or rules will be sanctioned by Tribunal.
What 9 Legion will do for you ?
U will never walk alone !
We don't surrender and never retreat.
Thats how we live and how we will end.
If you want to apply for our guild or get more information about us visit our website.
Information
Owner: irons
Founded: 30-January 14
Members: 9
Latest Posts
There are no posts in this group yet...


News

5
by irons Jan 31 2014 01:04 PM

Visit our Website

---